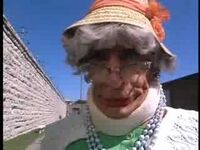 Ernest's dramatic great aunt who is not on good terms with her son Izzy. She often acts like the death of her husband Morris was a blessing. She tries to get men to notice her by acting innocent all the time. She is usually seen wearing a straw hat, a neck-brace, a big dress, a bead necklace, earrings, a white jacket and glasses.
Appearances
Edit
Ernest Saves Christmas (Ernest in disguise)
Ernest Goes to Jail (Ernest in disguise)
Ernest Scared Stupid (One of the "multiple personalities" of Ernest)
Ernest Rides Again (Ernest in disguise)
Ernest Goes to Africa (Ernest in disguise)
Your World As I See It
Ad blocker interference detected!
Wikia is a free-to-use site that makes money from advertising. We have a modified experience for viewers using ad blockers

Wikia is not accessible if you've made further modifications. Remove the custom ad blocker rule(s) and the page will load as expected.